Recipe:
Veggie Baguette Sandwich
Quick + Easy Meal Recipes, Sandwiches and Wraps Recipes, Vegetarian Recipes
---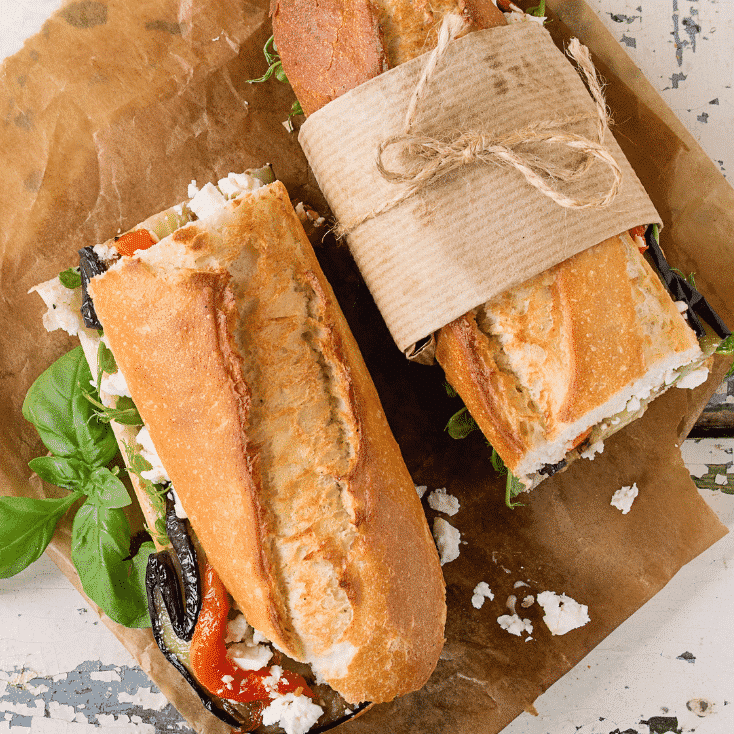 A french baguette sandwich is something special. The crusty bread is the star for me and on a picnic is the perfect place to enjoy a baguette sandwich. I created this veggie version of the classic baguette sandwich for a few reasons:
It's a fresh alternative to a meat sandwich and it can go unrefrigerated for longer because of that. Handy on a picnic!
It's great if you are cutting back on processed foods or pregnant. According to American prgancy.org,  outbreaks of Listeria have been linked to deli meats so it's recommended that pregnant women skip the cold cuts to be safe. 
Ingredients Used In The Veggie Baguette Sandwich
I use fresh cucumber, feta cheese, and chopped walnuts piled high on a crusty whole-grain baguette. Slather the baguette with stone ground mustard.
Add avocado, particularly if you're missing the creaminess of mayonnaise. Arugula adds a peppery flavor. 
I like adding walnuts on top because they have a rich nutty flavor, and are an excellent source of omega-3 essential fatty acids, which are a special type of protective fat that the body can't make on its own. 
Great for your health and a super tasty vegetarian baguette sandwich that is perfect to pack for a picnic!
Alternative Ingredients You Could Use In This Veggie Baguette Sandwich
Mix up the flavors by adding roasted eggplant, bell peppers, tomatoes, mushrooms, or thinly sliced radishes.
Switch out the feta cheese for goat cheese. 
Skip the mustard and instead marinate the veggies in a zesty olive oil blend. I use equal parts olive oil and red wine vinegar, one shallot, a squirt of dijon mustard, and a dash of garlic, salt, and pepper.  place ingredients in a large jar with a lid, add veggies, cover, and shake! 
Why is a vegetarian baguette such a good idea?
Vegetarian food usually doesn't contain the proteins that other sandwiches do.
Making a vegetarian baguette sandwich may be more cost-effective if you're on a budget. It's often cheaper to buy vegetables than meat.
A vegetarian baguette may be a smarter lunch option for you if you're trying to watch your weight or are on a diet since it's lower in calories and fat than other sandwiches.
A vegetarian sandwich with feta cheese will keep you satisfied, as cheese has fat, a healthy dose of calcium, and protein.
A baguette sandwich with chopped walnuts will keep you fuller longer and it has a good dose of Omega-3's.
The ingredients are also rich in fiber, which is important for digestion and weight management.
Total Time: 15 minutes
Yield: 6 serving(s)
Ingredients
1 whole grain baguette or other whole grain bread
6 tablespoons stone ground mustard
1 cup fresh arugula (may use fresh baby spinach)
1 avocado, thinly sliced
1 cucumber, peeled and thinly sliced
4 ounces crumbled feta cheese
1/2 cup chopped walnuts
sliced tomato
Directions
Preheat oven to 350 degrees F. Slice baguette in half lengthwise, separating two long pieces.
Place directly on oven rack and bake 5 minutes, just until lightly toasted.
Carefully remove baguette halves from oven and spread both with mustard.
Layer arugula, avocado, tomatoes, cucumber, feta cheese, and walnuts equally over the bottom half of the baguette.
Cover bottom of baguette with the top half and cut into 6 equal sandwiches before serving.
Nutrition Information Per Serving
Calories: 230
Protein: 7 gram(s)
Fat: 52 gram(s)
Carbohydrates: 11 gram(s)
Fiber: 4 gram(s)
Recipe Cuisine: French
From the kitchen of: Get Healthy U